A timeline of major events in Thief. Minor events are discussed on the Storyline page.
Ancient History
Edit
The order of events in ancient history are not clearly known.
At an unknown period of time, The Trickster leads man and beast in the ways of nature and chaos. The Master Builder, however, leads man in the ways of tools and order.
Destruction of Kurshok civilization; The Great FallEdit
Fall of The Trickster
Edit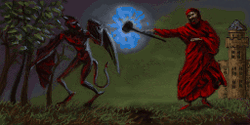 At some point, the Builder and the Trickster clash, with the Trickster defeated.[3]
Precursors
Edit
Destruction of Precursor civilization; The Extinction/CataclysmEdit
The Hag begins to collect glyph powers, The Ancient Keepers create the Sentient safeguards.[9]
Recent History
Edit
Year xx8?-84
Edit
(+50 years prior to TDP) The Catastrophe[11]
Current History
Edit
Interpreter Diocen retires his position, and Caduca takes his place.[16]
Garrett, in his twenties,[18] decides to use his skill for other means, leaves the Keepers to begin his life of crime.[19]
The Hag, using the name 'Gamall' and using Lauryl's form, is discovered by the Keepers, and begins translating.
Thief: The Dark Project events (the first age)
The Dark Project Ends
Karras founds the Mechanist Order and begins his rise to power.
Truart takes control of the City Watch.
The Hammerites begin to lose influence.
Gaining the trust of the Watch, the Nobility, and businessmen alike, the Mechanists begin a large grab for power, despite being a very new splinter group.
Year xx35-36
Edit
Thief II: The Metal Age events
(the second age)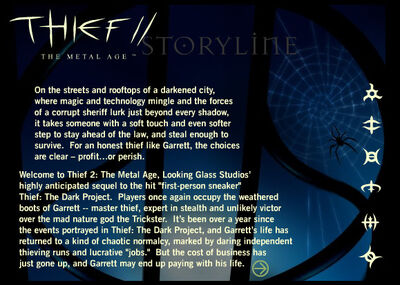 The Watch begins rounding up all criminal elements for the Servant project.
Garrett inadvertently walks into a trifecta of the City Watch, his old enemy Viktoria, and the Keeper Prophecy.
Garrett and Viktoria work together to thwart Karras's plans to destroy all biological life in The City, and end up killing him in the process. Viktoria sacrifices herself at Soulforge Cathedral.
The Metal Age Ends
After the death of Karras, the Mechanists quickly fall from power.
The City Watch, Nobility and businesses quickly drop most or all ties to the Mechanists.
Thief: Deadly Shadows events (the third age)
The Hammerites slowly return to power after the fall of the Mechanists.
Garrett is accused of murder, and is hunted by the Keepers.
The Hag disguised as an old woman attacks Garrett,[27] leading to the aid of Inspector Drept.[28]
The Hag returns to her true form when Garrett frees Lauryl's soul from the Cradle. The Hag goes on a rampage through the Keeper Compound.[29][30]
Aided by the Keepers and Drept, Garrett defeats the Hag.
After the Hag's capture, all prophecy, every glyph, and every bit of Keeper magic is destroyed. All books are empty, and building appear in the city out of nowhere.[31]
Garrett leads the remaining Keepers.
References
Edit