About • Policy • Legend • Categories • Help pages • Community
Recent Changes • Special Pages • Random Page
Quote of the Moment
"
When I was cold, Thou taught of hearth and roof-beam. When I was hungry, Thou taught of pot and cauldron. When I was beset by foes, Thou taught of spear and shield. Thy hammer pounds the nail, holds the roof-beam. Thy hammer strikes the iron, shapes the cauldron. Thy hammer in my hand, unto my foes.
"
 
— Hammerite
Did You Know...?
...Ion Storm-Austin is an Eidos funded studio?

Thief II: The Metal Age 20th Anniversary Contest! - Deadline: Mar 23rd, 2020 at 23:59 Pacific Time.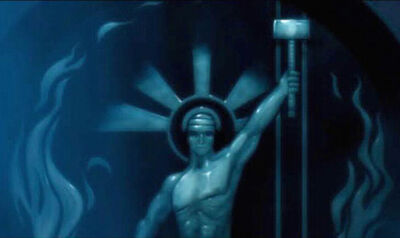 "
Ye shall not rob from the house I have built, or commit any theft or un-righteousness, lest ye be struck down and driven into the earth forthwith, and the land of the heathen consume you.
"
 
— The Book of the Stone
The Order of the Hammer is a technocratic religious group, also known as the Hammerites. They seek to carry out the vision of the Master Builder, their architect god, (who cultivated the human civilization from savagery by giving them the ability to use technology) and are the burning force of progress in the Thief world. They represent order and orthodox religion and zealously enforce the tenets of their faith. Part of this means a ceaseless strife against criminals and other law-breakers, but particularly against their long-time enemies, the The Trickster-worshipping Pagans, who promote chaos and distortion. They speak in a pseudo-archaic version of Early Modern English.
All pages may contain spoilers

Site

Editing
| | |
| --- | --- |
| The Thief Games | Thief World |
Community content is available under
CC-BY-SA
unless otherwise noted.