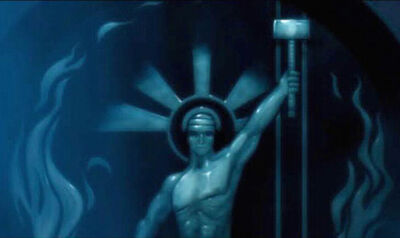 "
Seek thou not blood from the stone, but only from thine enemies. And if they bleedeth sap, then seek it doubly so.
"
 
— The Book of the Stone
The Order of the Hammer is a technocratic religious group, also known as the Hammerites. They seek to carry out the vision of the Master Builder, their architect god, (who cultivated the human civilization from savagery by giving them the ability to use technology) and are the burning force of progress in the Thief world. They represent order and orthodox religion and zealously enforce the tenets of their faith. Part of this means a ceaseless strife against criminals and other law-breakers, but particularly against their long-time enemies, the The Trickster-worshipping Pagans, who promote chaos and distortion. They speak in a pseudo-archaic version of Early Modern English.
THIS INFO IS NOT INCLUDED WHEN THE TEMPLATE IS USED
Hey you Taffer! Use this for a gallery in case you forgotten.

Keep a running list of articles that have been featured.
05 Mar 2013 - Thief 4 screenshots
26 Sep 2013 - Necrotic Mutox
Community content is available under
CC-BY-SA
unless otherwise noted.