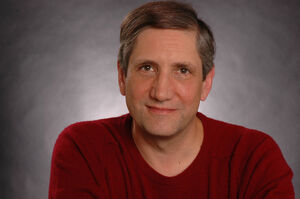 Stephen Russell is a voice actor, most known for his voice acting in the Thief game series as the protagonist Garrett. He also voiced Karras, chief antagonist of Thief II: The Metal Age, as well as voicing some of the minor characters in the series, such as guards and Hammerites. Russell additionally contributed the voice of the starship Von Braun's central computer XERXES and that of William Bedford Diego in Irrational Games' System Shock 2. He has since become a popular figure in both communities. In Fallout 3, he voiced the mutant Harold, as well as Andy, and all Mr. Handy and Mr. Gutsy models in the game, and more recently he voiced several characters in Fallout 4, including DiMA from the Far Harbour DLC, Nick Valentine, Codsworth, and various Mr. Handy models.
Filmography
Russell makes his debut film appearances as Bob in the 2007 independent film Noëlle and as Luther Norris in the romantic comedy film Chatham released in 2008. He played a minor role in the 2009 film The Ghosts of Girlfriends Past. He was also a voice actor in the game Fallout 3 as Andy, Mister Buckingham, The Great One, Wadsworth,Seargent RL-3, Cerberus and All Mr. Handy and Mr. Gutsy models in the game.

The fifth installment in the Elder Scrolls series, The Elder Scrolls V: Skyrim, features Russell voicing a range of characters including; Barbas the talking dog, the Daedric Prince Clavicus Vile and Mercer Frey the leader of the Thieves Guild.
Controversy
In the cinematic trailer for the Thief reboot, it seems that he will not be voicing the new Garrett.  The new voice actor, Romano Orzari, will be replacing his long-standing role.  Eidos' choice has resulted in a significant backlash from fans, ranging from the Youtube Comments on their Out of Shadows trailer to petitions, which is still gaining signatures.  The developers however stood firmly by their decision:
"...The fact is, Stephen's voice today is much older than the Garrett you see in Eidos Montreal's Thief. There was a disconnect between what the voice and the character that we couldn't ignore, despite being as nostalgic as everybody else." [b1skit, EM's Forum Community Manager]
Petition
A petition was started to try and bring Stephen Russell back for the Reboot (credited as 'Thief 4' at the time), at Change.org
However, the Petition failed in its goal.
External Links
Stephen Russell on IMDB