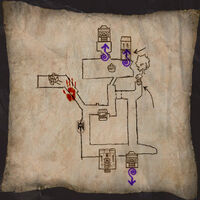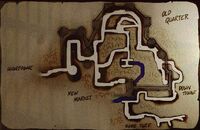 South Quarter...one of the City's most crowded residential districts, in the center of town, near the river. It's not wall to wall nobility, like Auldale, but there's money here... if you know where to look. -- Garrett
South Quarter is a district set between Newmarket and the Docks. It is a densely populated district, with mixed citizens. It is considered neither a rich, nor a poor area, but the presence of Pavelock Prison marks it is a neighborhood with high City Watch activity. South Quarter can be pointed as Garrett's home district. He frequently takes residence here and hides after a job in this area. Even Ramirez's sources describe Garrett as a South Quarter 'independent' thief.
It never has very many watchmen, or people, for that matter. The north area has a fountain plaza, which has his apartment building and a gate leading north to Stonemarket. The southern street area has a well in the eastern corner, a gate leading to the Docks in southeast corner, Pavelock Prison on the south end, a guard station west of that, and a food stand on the north side of this area. The west road in this area leads to Black Alley, which has Heartless Perry the fence, and The Well-Equipped Thief shop.
Known Locations
Edit
Known Streets
Edit
Community content is available under
CC-BY-SA
unless otherwise noted.