Health
Maximum
20
Flees at
3
Attack
Primary Attack
Fire Hammer Ball
Damage
6
Behaviour
Alertness
moderate
Aggressiveness
high
Speed
medium
The Hammerite Priest in TDS is more powerful and has the ability to bless allied Hammerites.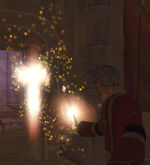 The Priests themselves can bless allies such as Hammerite Guards, enabling them to deal more damage.
If Garrett stands near the ally being blessed, he will get blessed as well, probably increasing his power. In first person view, when the player looks down, Garrett's hands and legs glow yellow, the same color as a blessed ally.
The Priest's hit rate has improved, making them deadlier to both human and undead enemies alike. They carry a wand on their belt, and wield it when alerted. When attacking with their wand's magic power, they are able to injure Undead creatures.
Since their attack is ranged, they are more powerful and effective than Hammerite Guards, and are able to win a fight even when outnumbered 1-3, eventually killing all the opposing undead without getting hurt themselves.
Their attack is also quite dangerous for Garrett, making stealth a better option than confronting them. A neat trick is stealing their wand and throwing it someplace, making it impossible for them to use their magical attack, rendering them almost powerless.
The speed of their magical projectile is almost instantaneous, making it necessary to move out of the way before they cast their spell. Attempting to dodge their attack after spell casting will only result in pain.
Appearances
Edit
The Priests have a higher rank in both hierarchy and abilities, but in fact they represent a lesser threat than the Hammerite Guards. Their projectile attack has a solid damage of 6 points (no more, no less), but is rather slow and can be easily dodged. The Priest has no other means of attack, so circling and attacking him would be the best strategy in case of a fight. However the Hammer Priest becomes very dangerous if a Hammerite Guard joins the fight. Not only that both of these fighters are dangerous by themselves, the tactic of melee in front and ranged behind is also applied.
These Priests appear to be stronger than their DS counterparts in terms of magic as they do not appear to need any external focus (such as a Wand) to cast spells.
Enemies, Creatures and Characters
Community content is available under
CC-BY-SA
unless otherwise noted.