Creates the object named in Emit what with a specified velocity.
Halt: Specifies what this Tweq control should do once the object is fired:

Destroy Obj: The emitter is deleted.
Remove Prop: The Tweq->Emit property is removed.
Stop Tweq: The tweq is deactivated. It can be turned on again later.
Continue: The emitter continues to fire.
Slay Object: The emitter is slain (creating corpses, etc.)

AnimC: A collection of options ('flags') that affect various aspects of this tweq control:

NoLimit: If this flag is set, the object will ignore off signals.
Sim: This flag causes the tweq to proceed whether or not it is in view.
Wrap: Does not appear to effect this tweq.
OneBounce: Does not appear to effect this tweq.
SimSmallRad: Does not appear to effect this tweq.
SimLargeRad: Does not appear to effect this tweq.
OffScreen: The emitter only fires when it is off-screen (unless the Sim flag is also set.)

MiscC contains more flags to control the tweq.

Anchor
Scripts
Random
Grav
ZeroVel
TellAI
PushOut
NegativeLogic
Relative Velocity
NoPhyics
AnchorVhot
HostOnly

CurveC
Rate: The time interval between shots. This is only relevant when firing more than once.
Max Frames: The number of shots fired before the Halt occurs.
Emit what: The object to be fired. This must be a name in the object heirarchy and cannot exceed 15 characters.
Velocity: X is the speed of forward motion (in addition to the object's projectile velocity), Y is the sideways motion, and Z is the upward motion.
Angle Random: Unclear. Not available for T1/TG.
Property Name: CfgTweqEmit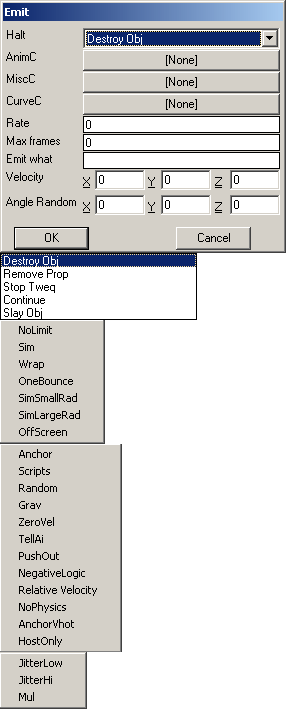 Community content is available under
CC-BY-SA
unless otherwise noted.