This property specifies what happens when this objects is frobbed, either in the world, in the inventory, or as a tool.
Move adds a Contains link from the frobber to the object; picking the object up.
Script activates the object's 'on frob' scripts, such as StdButton, etc.
Delete destroys the object when frobbed.
Ignore makes the object unfrobable.
FocusScript activates the object's 'on focus (selected)' scripts, such as the Arrow script showing your bow.
Tool Cursor (Inventory only, I think) makes the object zip out of the player's inventory as a tool, like a lockpick.
Use Ammo decreases the Stack Count of the object by 1 with each frob.
Default triggers Act/React 'Frob in World/Inv' sources.
Deselect unselects the object. A key is deselected after being used on a door.
Property Name: FrobInfo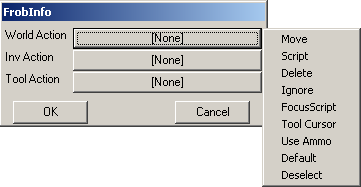 Community content is available under
CC-BY-SA
unless otherwise noted.