This property is used to control how AIs with ranged attack capabilities act. Note that the AI must have ranged combat as a part of their AI instruction set.
Firing Delay is the amount of time (in seconds) that the AI should wait before firing again.
Ideal Distance indicates the range at which an AI will tend to fire.
Contain Projectile may determine whether the AI actually has the projectile with it.
The other options don't seem to have any noticeable effect on AIs.
This property can be found under AI->Ability Settings in Thief 1 / Gold, but without the Contains Projectile option.
Property Name: AIRCProp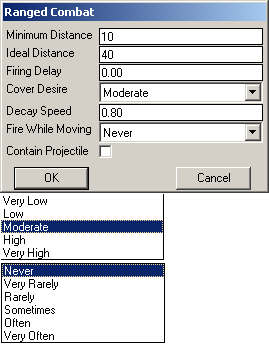 Community content is available under
CC-BY-SA
unless otherwise noted.