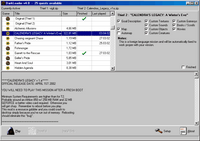 DarkLoader DarkLoader enables you to play thief fan missions, and is an enhancement of ThiefLoader (v1.5) created by Andrew Bednarz and provides compatibility to existing ThiefLoader installations. DarkLoader was originally created by Bjoern Henke, but Tom Harris continues its development.
Game Support
Edit
DarkLoader supports and is tested with:
DarkLoader does NOT support:
Pre-Installation
Edit
Install Game patches:
Thief:_The_Dark_Project/Technical_Support#Patch
Thief_Gold/Technical_Support#Patch
Thief_II:_The_Metal_Age/Technical_Support#Patch
Installation
Edit
The full installer includes extra third-party software required for playing fan-missions. Players should download the full install at the DarkLoader site.
Downloading
Edit
See Where to find Fan Missions.
Configuration of Games and Fan Mission directories.
Specific info
Thief Gold
Edit
Specific info
Specific info
External Links
Edit