Health
Maximum
20
Flees at
6 or 7
Attack
Primary Attack
Claw attack
Damage
4 to 10
Behaviour
Alertness
medium
Aggressiveness
high
Speed
medium
Other
Variations
none
body cannot be moved when killed or knocked out
does not drown in water
You may be looking for Craybeast.
Craymen are humanoid creatures that inhabit caves and wet areas. Although they do not appear capable of human speech or writing, they do emit a series of chirps and clicking sounds, which may be a form of communication. They also appear to be skilled in spotting and killing intruders.
Appearing something like humanoid crayfish, they have a speckled, khaki-toned, segmented and articulated chitinous exoskeleton, with large red eyes at the ends of thick fluted stalks, giving their heads a hammerhead shape and have the ability to breathe underwater. The primary mode of attack for Craymen is using their massive lobster-like pincers as swords.
Craymen are usually encountered in deep underground caverns or ruins, avoiding areas populated by living humans. Despite their similar nature to other creatures found in The Maw of Chaos they do not have any evident affiliation with the Trickster or the Pagans.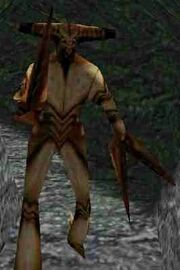 Craymen are fairly fast and aggressive, and have the ability to block sword blows with their claws. They have a lot of health, making them dangerous opponents, especially in groups. They are surprisingly good hand-to-hand fighter, frequently blocking sword attacks. Their slow turning speed can be used against them in direct combat in an anti-Burrick fashion. Keeping distance and being hidden still remain the best approaches. Given the fact that the Craymen are quite rare, they shouldn't be a serious threat. Summarily, they can be stopped in the following ways:
Craymen are heavier than humans, and cannot be carried.
Appearances
Edit
Thief: The Dark Project
Edit
Thief: The Dark Project/Thief Gold
Edit
Thief Gold
Edit
Enemies, Creatures and Characters
Community content is available under
CC-BY-SA
unless otherwise noted.