Playing
What are Fan Missions
Thief Fan Missions (FMs) are additional levels that you can play using the original game CDs. These missions are created by Thief players or modders, for the enjoyment of other Thief fans. You must have the original game CDs to play the FMs created for that game. Official Missions that are part of the original games are unofficially called OMs.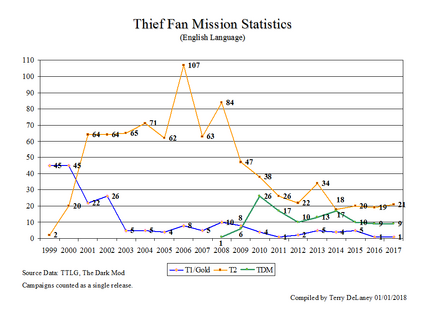 How to Play Fan Missions
For Thief: Deadly Shadows install and use GarrettLoader.
For Thief: The Dark Project, Thief Gold, or Thief II: The Metal Age install and use DarkLoader.
For Thief II: The Metal Age, the Fan made expansion pack Thief 2X: Shadows of the Metal Age has its own installer.
Where to find Fan Missions
In general, these locations:
More links:
How many are available at the moment
Which makes 1061 missions in total.
Development
List of Fan Missions by Category
All items (26)