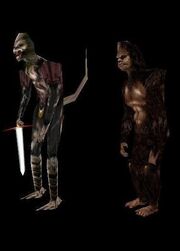 Health
Maximum
10
Flees at
4
Attack
Primary Attack
Sword (Thief)
Damage
2 to 6
Secondary Attack
Blowgun (Thief II)
Damage
1 to 4, depending on distance
Behaviour
Alertness
Average
Aggressiveness
Above Average
Speed
Average
Other
Variations
armed with sword, blowpipe or barehanded
You may be looking for Rat Beast
Ape Beasts are a type of Chaos Beast resembling an ape. Ape Beasts make up a large part of the Trickster's army. Ape Beasts are almost never seen by people in The City. They tend to inhabit only those areas controlled by pagans or the Trickster. They talk in the same broken pidgin English as the Pagans.
The uniforms worn by ape beasts are the same as those worn by Constantine's human guards; they were originally had been humans.[1] While rather slow due to their limp-like run, Ape Beasts can be devastating if they get close enough to Garrett. They are especially dangerous in groups of two or more. They are very skilled swordsmen, and in some aspects, are better swordsmen than Haunts. Luckily, they flee after one overhead strike and have a low health count of 10.
The following should be kept in mind when confronting Ape beasts:
Appearances
Edit
Differences between Thief and Thief II
Edit
In Thief: The Dark Project and Thief Gold, ape beasts have tails and swords (they look more like a monkey or a rat monkey rather than an ape), and some have uniforms. In Thief II: The Metal Age they no longer have tails, and instead of swords they carry blowpipes. Up close, they may use their claws to attack, as well.
References
Edit
Enemies, Creatures and Characters
Community content is available under
CC-BY-SA
unless otherwise noted.